Vivian Cox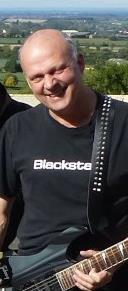 Based near Newent, I came to guitar playing quite late in life and for this reason I can fully appreciate the feeling that many music lovers may experience, namely that they wished they had learned to play when younger and fear that they may have missed the boat. My motivation is to demonstrate that this is not the case and that it is never too late to start. I would not wish to suggest that it is at all easy, however the rewards are worth it especially if you like guitar based music and would like to make your own sounds.
I am largely self-taught, but I can readily identify with the difficulties faced by first time adult players. It is sometimes more daunting to begin something new as an adult than as a child as we fear criticism and making mistakes. I offer a well-equipped music room for lessons and a relaxed and non-threatening environment. Whether you would like to strum on an acoustic or play electric blues and rock I can get you started on your musical journey.
My charges are £20.00 per hour or £10.00 per half-hour and the needs of you the student drive the whole process. Come for as long as you wish and as often as you need to ensure you benefit from the experience.
Contact Info:
01531 820353
carlothrash@googlemail.com